Welcome to the All African Airways Museum
At All African Airways, we cater for a wide range of pilots and flight simulator enthusiasts alike. Even though our Business is primarily to make (virtual) money, we still remember with fondness and nostalgia, the aircraft where it all started. For this reason, All African Airways is proud to manage a museum as part of our operations, where pilots may have the opportunity to fly with aircraft from long forgotten times.
The All African Airways Museum is based at Cape Town International airport, which has an ICAO code of FACT and an IATA code of CPT.
Cape Town airport is situated at the most South-Western extremity of the African continent, and, while being at sea level (and hence great performances for these old aircraft are guaranteed), it has a nice long Asphalt runway of approximately 10 500 feet.
Cape Town International Airport is the primary international airport serving the city of Cape Town, and is the second-busiest airport in South Africa, and the sixth-busiest in Africa.
Both main runways (01 and 19) are equipped with Instrument landing systems.
Museum aircraft
We currently have the following aircraft available at our museum, which pilots may book and use to conduct local flights, which will be logged on their personal pilot profiles. If you'd like us to acquire another aircraft to add to our museum, please contact one of our staff members.
Douglas Dakota DC-3 (ZS-AAA)
Pilots are welcome to book our DC-3 for a flight into the past. You may use this aircraft either for leisure purposes, or you may embark on a tour which may only be conducted with the Dakota. More information about our museum tours is available below.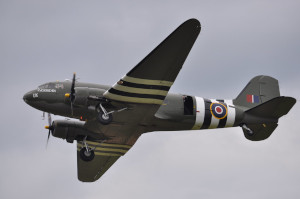 The Douglas DC-3 is a propeller-driven airliner, manufactured by the Douglas Aircraft Company, which had a lasting effect on the airline industry in the 1930s to 1940s and World War II.
It was developed as a larger, improved 14-bed sleeper version of the Douglas DC-2. It is a low-wing metal monoplane with conventional landing gear, powered by two radial piston engines of 1,000 - 1,200 hp (750 -890 kW).
The DC-3 has a cruising speed of 207 mph (333 km/h), a capacity of 21 to 32 passengers or 6,000 lbs (2,700 kg) of cargo, and a range of 1,500 mi (2,400 km), and can operate from short runways.
No need to delay, book our DC-3 Dakota for a historic flight today!
Supermarine Spitfire (ZS-BBB)
If you're in for a treat into the past, you may book our beautiful Spitfire aircraft either for leisure purposes, or you may embark on a tour which may only be conducted with this aircraft. More information about our tours is available below.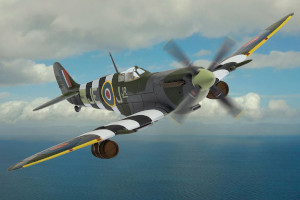 The Supermarine Spitfire is a British single-seat fighter aircraft used by the Royal Air Force and other Allied countries before, during, and after World War II.
Many variants of the Spitfire were built, from the Mk 1 to the Rolls-Royce Griffon-engined Mk 24 using several wing configurations and guns. It was the only British fighter produced continuously throughout the war.
The Spitfire remains popular among enthusiasts; around 70 remain airworthy, and many more are static exhibits in aviation museums throughout the world.
Be our guest, and book the Spitfire for a journey into the past today! Just a heads-up, this is not the easiest aircraft to master, so you may wish to do an off-line flight or two first!