Welcome to the All African Airways Flight School
At All African Airways, we cater for a wide range of pilots and flight simulator enthusiasts. If you're new to flight simulation, feel free to use the aircraft in our Flight School, which will get you going with the basics of mastering the principles of flight in no time.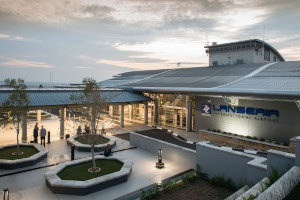 The All African Airways Flight School is based at Lanseria International airport, which has an ICAO code of FALA and an IATA code of HLA.
Lanseria airport is situated just to the West of Johannesburg International airport, in the Gauteng province of South Africa, and, at an elevation of 4 521 feet, it has a comfortable, long asphalt runway of approximately 9 820 feet.
Runway 07 is equipped with an Instrument landing system, and a VOR (LIV), is available at the airfield for navigation purposes.
Our Training Aircraft
We currently have the following General Aviation aircraft available at our flight school, for you to book, in order to get flying.
Student pilots are encouraged to use these aircraft to practice circuits or short local flights around Lanseria, and once you're ready for some serious cross-country flying, to engage in our General Aviation tour, which is discussed below.
Cessna 208 (ZS-TRA and ZS-TRB)
Student pilots are welcome to kick-off their All African Airways career by doing some training in one of our Cessna 208's, and are encouraged to master the basics of flight, by using one of the babies of our VA, the Cessna 208 (ZS-TRA or ZS-TRB), for this purpose. If you'd like to request another General Aviation aircraft to be added to our training fleet, please contact one of our staff members.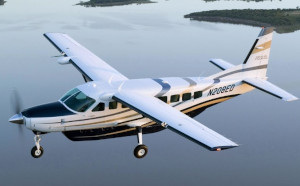 The Cessna 208 Caravan is a utility aircraft produced by Cessna. The first prototype flew in December 1982. The production model was certified by the FAA in October 1984.
The strutted, high wing 208 typically seats nine passengers in its unpressurized cabin, is powered by a single Pratt & Whitney Canada PT6A tractor turboprop, and has a fixed tricycle landing gear, floats, or skis.
By 2022, 3,000 had been delivered and 24 million flight hours have been logged. Caravans have been used for flight training, commuter airlines, VIP transport, air cargo, and humanitarian missions.
Flight School Training Tour
When you're ready, and once you've resolved any connectivity and simulator issues, feel free to start our General Aviation Cross Country tour, for which you must plan and fly the following flight legs: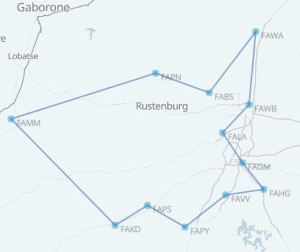 Depart from Lanseria (FALA)
Wonderboom (FAWB) - Warmbaths (FAAX) - Brits (FABS) - Pilanesberg (FAPN) - Mafikeng (FAMM) - Krugersdorp (FAKD) - Potchefstroom (FAPS) - Parys (FAPY) - Vereeniging (FAVV) - Heidelberg (FAHG) - Rand Airport (FAGM)
And for your final leg, fly back to the Flight School at Lanseria (FALA).
Click here to visit our Flight School General Aviation Cross Country tour page.
How to become an All African Airways pilot
All African Airways is currently operating from within the NewSky Virtual Airlines platform. In order to get going with your registration as a pilot, please follow the following directions.
Getting Started
If you need assistance, please reach out to any of our All African Airlines members, we'll be happy to assist you.